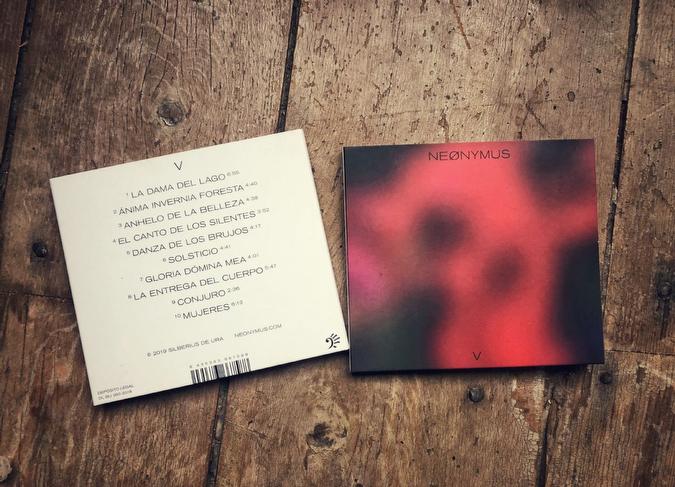 V is the continuation of the first album titled Ø.
V of Venus, Völva, vulva, Virgin, Eva ... V as a representation of the feminine, so present in this work.
Six years are many years
Since I recorded the first neønymus record, many music has passed through my head. Three years later (that is, three years ago), I already had the idea of ​​recording a new job and more or less had the repertoire, but for different circumstances I did not embark on such an intense process - and that bothers me - how is the recording. And as often happens with this, listening to some of those possible songs now, most of them don't seem good enough, which makes me feel that strange satisfaction of "how good I didn't do what I thought I should have done."
The feminine My voice rose an octave.
But in V there are some of those music. The first part of "The Lady of the Lake (La dama del lago)" I already sang it for the first time in 2014 in a concert in a prehistoric cave in the mountain of Montserrat (Barcelona) and that memory is still alive in me. Or "Anima winterforest (Ánima invernia foresta)", of 2016 and that was the music that opened the doors to compose part of the Soundtrack of Conquistadores-Adventvm film.
Since then, I was realizing that female voices took center stage in my music. That it was essential for me to use the octave pedal to make my voice sound an octave higher and express with that tessellation and color what I wanted / should tell / sing. I have always been fascinated by that machine that allows me to go beyond my three natural octaves. The feminine giving another character and another message to my music. He is no longer a Pleistocene man hitting two bones in a cave. Now it is a female water deity. Or the women singing to their lineage. Or the despair of those who are silenced. Or the conjurers. Or the Lady of the wet world. Or so many female spirits ...
Recording
Suso Ramallo and I had been talking about the next neønymus album for some years. I was clear that I wanted to do it with him. He is a teacher and a man with immense wisdom.
On the night of souls of 2017 I made a concert in the Romanesque church of the Sanctuary of Estíbaliz, near Vitoria (Álava) and I was impressed. I was captive of the beauty of that sound and that place. Of that Virgin with her son in her legs. So when I decided that it was time to record a new album, which was also dedicated to the female spirit, Estíbaliz was the focus of my thoughts. I asked my friends in Medieval Alava, who run the Pater Bar right there, and they intermediated before the community of the Benedictine monks who live there. And the monks gave me their permission. So there Suso and I went, and for five days we lived with those venerable Benedictines, recording for the day in the church and other corners of the sanctuary, and sharing some coffees with my dear friends.
Once we had a premix of the songs, I passed them to my friend Ritxi Ostáriz to create the album design. He was very clear from the beginning.
Despite having seen all the tests on the computer, when the factory CDs arrived and I opened one and saw the CD, my face lit up.
Recording, mixing and mastering by Suso Ramallo.
All the songs composed and performed by Silberius de Ura: Voice, bone flutes, elm pentatonic flute, lithophones, shamanic tambourine and Geneva.
The Lady of the Lake (6:55)
Anima winter forest (4:40)
Longing for beauty (4:38)
The song of the silentes people (3:52)
Dance of the Sorcerers (4:17)
Solstice (4:41)
Gloria Dómina mea (4:01)
The surrender of the body (5:47)
Spell (2:36)
Women -seed, lineage and yolk- (6:13)
You can purchase the disc in Digipack format or digital download from my official store: https://silberius.com/es/c/v-neonymus
And if you want, you can write your opinion here about the disk. We will thank you. How I thank you for your interest in my music.
Peace and beauty be with you.

https://silberius.com/es/c/v-neonymus